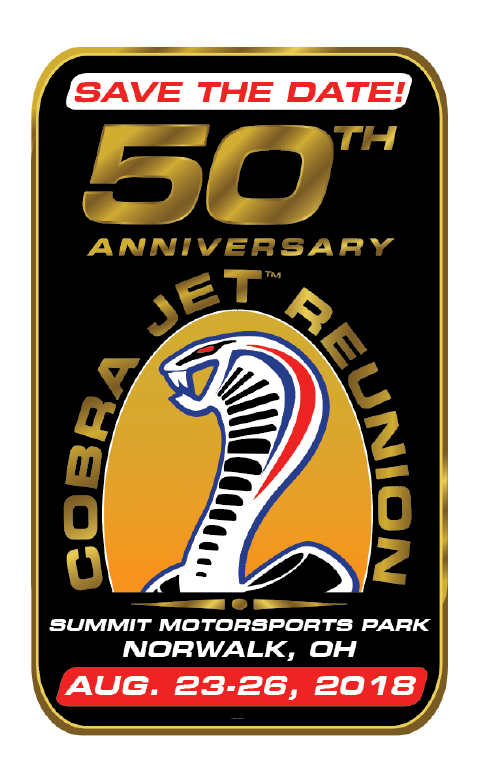 Save the Date…50th Anniversary Cobra Jet Reunion August 23-26, 2018
December 3, 2017 (Santa Ana, CA) - Get out your your calendar and be sure to
schedule a very important weekend for a must attend event for all Cobra Jet
enthusiasts and fans. ProMedia Events is pleased to announce it is working with
several major partners to produce the exclusive 50th Anniversary Cobra Jet
Reunion at its NMCA All-American Nationals event at Summit Motorsports Park
in Norwalk, Ohio, August 23-26, 2018.
Presented by TascaParts.com, this once-in-a-lifetime special event is open to all
Ford vehicles powered by the iconic Cobra Jet engine combination. Cobra Jet
vehicles, including Mustangs, Shelbys, Fairlanes, Cougars, Torinos,
Cyclones/Montegos, and Rancheros (all tributes/replicas permitted), will invade
the Buckeye State in celebration of their legacy, from 1968 to present, with
activities that include a huge Cobra Jet car show, vintage and modern Cobra Jet
drag racing, invited celebrities from the '60s to today, and a special Friday
celebration dinner for vehicle owners, Cobra Jet royalty, sponsors, media, and
fans.
Stay tuned on
NMCA |
and
RacePages Digital | RacePages
for a
major formal press release in early 2018. In the meantime…save the dates of
August 23-26, 2018, for the exclusive 50th Anniversary Cobra Jet Reunion.